Welcome to the 7th United States Infantry Website
Dear visitor,
Welcome to the home page of Company A, 7th Regiment of United States Infantry Living History Association. We are glad you found us!
As you travel through our site we hope to make you better acquainted with the early history of our country and the role-played in its development by the 7th Regiment of United States Infantry.
The 7th is nicknamed "The Cottonbaler Regiment." This sobriquet stems from the Battle of New Orleans on January 8, 1815. There are two small falsehoods about these last two statements. For generations Americans have been taught that the Battle of New Orleans, which actually occurred at Chalmette, almost eight miles from the heart of the city, was fought behind bales of cotton. This is not true.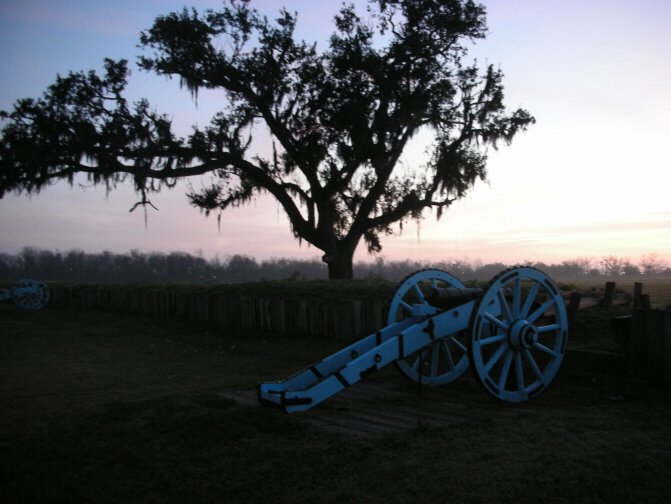 Jackson's line stretched almost a mile in length and was constructed of mud, earth, and logs. Some cottonbales were used around the embrasures of the artillery pieces. It was found these tended to ignite from the fire of the artillery creating choking and blinding smoke. The bales were eventually covered with mud. Some were also used as the foundations for gun platforms.
The battle for New Orleans commenced on December 23, 1814 when the American Army staged a daring night attack against advanced elements of the British force several miles below the city at Villerie's Plantation. Leading the way in this engagement was the 7th Regiment. During a critical moment in the battle the 7th crossed bayonets with British soldiers and by their aggressive action saved the American battery from capture. According to Regimental tradition "The Girl I Left Behind Me" became the Regiment's march during this engagement.
On the main action of January 8th part of the Regiment counterattacked the British light column, which had successfully captured the American forward redoubt preventing exploitation of this breach. From these engagements the esprit d' corps and elan which mark today's active duty regiment and our living history organization was born.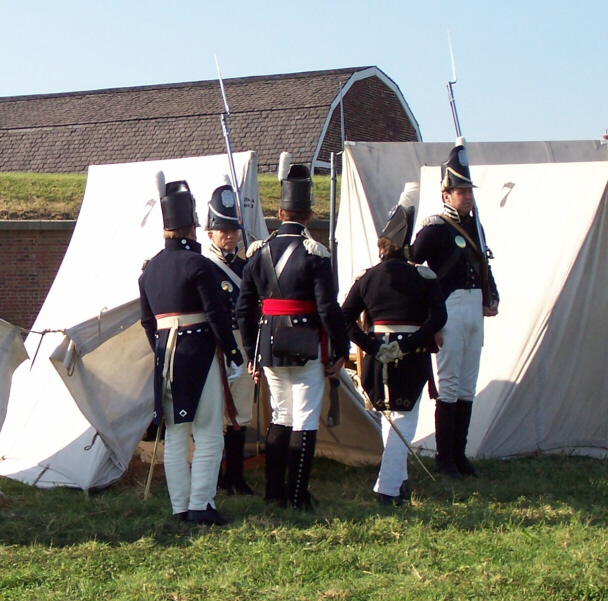 Our organization prides itself not only on attention to historic authenticity but to developing and maintaining that esprit d' corps among its members. Company A is a family. Each member dedicates him or herself to looking out for the other.
The active duty Regiment is the most decorated unit in American Military history. From the War of 1812 through Desert Storm 88 campaign streamers, Presidential unit citations and various foreign awards for valor and merit adorn its Regimental Colors.
On Saturday January 4, 1997 our unit was accorded the highest honor ever received by a living history organization. On the field at Chalmette the active duty 7th Infantry bestowed the privilege of carrying on our Colors the same streamers attached to theirs. We are the only living history organization in this country which has ever been accorded so high an honor and responsibility! On special occasions these streamers are placed on our Standards and proudly exhibited for all to see. They serve to remind us of the unparalleled history of the active duty Regiment, and the ultimate sacrifice paid by many Cottonbalers to help maintain and further our Nation. We maintain close ties with the active duty Regiment and The 7th Infantry Regiment Association.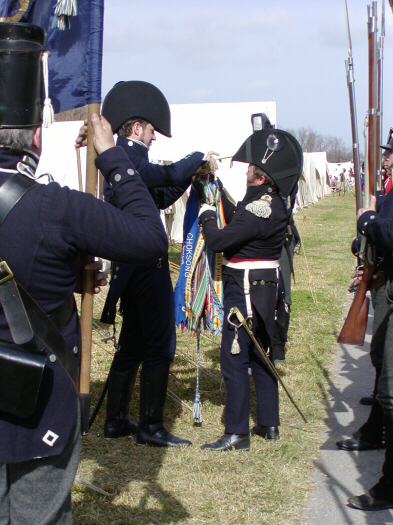 Aside from our beautifully reproduced Regimental and National Standards Company A is also proud owner and creator of what is believed to be the largest hand sewn Garrison Flag currently in use in the United States. Copied from an original dated to 1842 it measures 13' on the hoist and 21' on the fly.
Company A 7th Regiment of U.S. Infantry Living History Association was founded in 1988 in Ft. Worth, TX by Steve Abolt, John Gattis and Bruce Winders. Originally known as "The Jacksonian Society" it officially took on the designation of Company A, 7th Regiment of United States Infantry in 1989. It has grown from three members to now, twenty years later, over 100. We have members in more than 15 different states and Canada. Within our ranks are Ph.D.'s, historians, attorney's, curators, psychologists, educators, accountants, counselors, park rangers, law enforcement officers, housewives, students and active duty military personnel. All are dedicated to preserving and recreating the history of this proud regiment during the years spanning 1810-1850.
Each new recruit who joins is assigned a number, names are rarely used while on duty, and placed under the care of an experienced soldier. He is taught how to properly wear his uniform, salute his officers and maintain his equipment. No member of this unit is considered a soldier until he has stood his first active guard duty.
Rank is appointed from the commanding officer. There are no elections. All potential recruits should be aware of the fact this unit is run like a regular army company. Its guidelines, aside from good common sense, are the Army Regulations in effect during the particular time period portrayed. While all are treated like family, and outside of events individual opinions are solicited and encouraged, all decisions regarding the operation of the unit rest with the commanding officer or his appointed delegates.
All members have the ability to rise through the ranks providing they show leadership abilities, are skilled in the manuals, and duties in camp and garrison. Our leaders look out for their charges and avoid the bane of all in authority, the abuse of power. Though we are portraying a Regular regiment all of our members are volunteers. They are here because they want to be. Without them this unit would not exist. Each is unique and each is a proud upholder of the sobriquet: "Cottonbalers By God!"
While we are a military unit, women play a very important role in our programming. Although their roles are limited to 19th century functions, the massive contributions women made to early American development are highlighted at each event. In order to preserve historical accuracy, we do not allow our female members to portray typically male roles.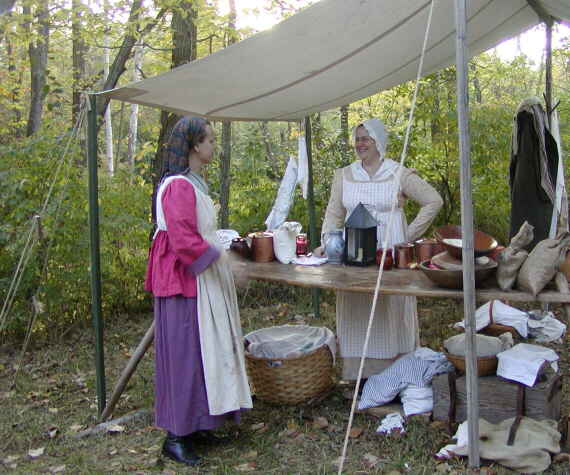 Our company prides itself on our laundresses, also known as washerwomen. By regulation four women could be employed by each company for the purpose of washing and mending for the soldiers. They received not only pay, but government rations. "Suds Row" is a popular stop for our visitors. Our laundresses wash clothes the old fashioned way, by boiling them! One of their greatest prizes is a hand hammered copper wash basin from Mexico. The head laundress keeps accounts and also makes sure her fellow laundresses are present for roll calls and any government issues of food or clothing.
Several of our ladies excel at cooking. In the 19th century most cooking in the army was done by men. However as the commanding officer is a stickler for drill he has managed to convince some of the enlisted men's wives to take on this duty. They are always more than happy to share a recipe with visitors, and a sample of food for some hungry soldier. The Colonel's cook takes care of the officers and few ladies present. The enlisted men are always happy when she is about as the Colonel is well fed and tends not to take out his frustrations on the poor soldiers!
Our organization also maintains close ties with several other superlative living history organizations. At large events we tend to join our collective forces. Our sister units include, Company A Second Artillery, Clemson's Co. 1st U.S.I. and the Missouri Rangers, B troop 1st Dragoons, the 25th U.S.I. and the Upper Mississippi Brigade
We hope you enjoy your tour through our site. If you would like a new recruit packet you can e-mail the commanding officer atsacbg7@att.net. Thank you for your interest.
- written by Steve Abolt, Colonel Commanding